About four months ago I stumbled upon this short Selby featuring Lucy Chadwick, director Contemporary Gallery in NYC and an instillation artist herself. I was completely inspired by her and tweeted it immediately.
After stalking Countless blogs for about two weeks, someone finally figured out that she was wearing were fantastic specs by Cutler and Gross.
To my dismay, they were damn near $500 a pop and I just could not shell out that without the appropriate planning.
I was sick of my two year old Nautica glasses, so I decided to postpone the Cutler and Gross' and get
this bad gal by Marc Ecko
instead for a fifth of the price.
In either case, the specs (glasses, shades, eyewear ...) has been having a moment lately and it's about time I talked about it.
"Let's talk shadyyy, and I do not mean slim . "
The only bad thing about mirror shades is the amusement people get when they can see Themselves in your sunnies and proceed to check Themselves out in them for the next 30 seconds.
I have not copped myself a pair feed because I've had my eyes on these and will settle for nothing less, but with my awesome readers I have now, I am not really too crazy about ordering any shades for the moment.
I remember a couple years back my brother and I were at the beach and he lost feeling sunnies. They were gray, and mirrored, and I could not get why he was so damn disappointed. He said he had bought them in Canada after searching for them for months, he knew it would not be Easily Replaced because they were
mirrored.
Fast-forward to 2013, and that reality could not be farther from the truth. Funny is not it? I rarely focus all of my attention on what trends ladies and gents, that's kinda what this post boils down to.
"You can catch me ridin 'nerdyy."
I am such a fan of big specs. Due to my high prescription, my eye doctor advised me to get medium-frames but, I say, ef the system -
I like them big
. Lucy Chadwick's small framed lose face behind large frame glasses are the perfect compliment to any airy-hipster chic vibe.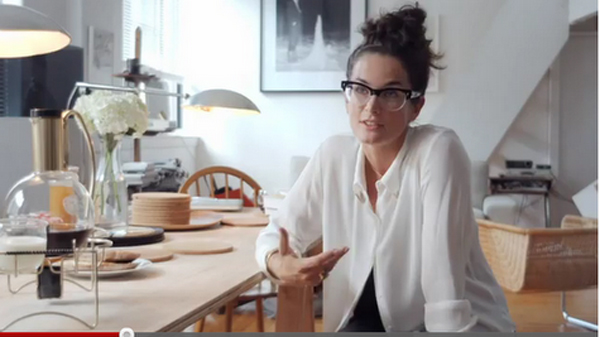 My biggest type on when it comes to eyewear is bold to go . It can really be a great finishing touch on your attire. I mean, picture without the cool specs Lucy? It's totally seals the deal on any laid back cool style.
I mean, if I dropped 1K on two of these cool specs, would I be doubly cooler than Lucy ....? Probably not.